Every month Bella Vita Gourmet Olive Oil will feature a recipe using our products. We will give you ideas of great tasting foods using Olive Oil and Balsamic Vinegars.
Bella Vita Gourmet Olive Oils & Balsamics will concentrate on healthy great tasting foods that give you healthy ways to eat without sacrificing flavor.
Chicken Saltimbocca/ Piccata
4 Boneless skinless chicken breasts                                        ½ Cup white wine
            Butterflied & pounded to ¼" thick                              ½ Cup chicken stock
4 pieces of thinly sliced provolone cheese                             1 Teaspoon kosher salt
2 Medium shallots                                                                Fresh ground pepper to taste
3 cloves of garlic                                                                     1 Cup all-purpose flour
1 Tablespoon drained capers                                                 ½ Cup Empeltre Extra Virgin
2 Tablespoons chopped flat leaf parsley                                          Olive Oil (robust)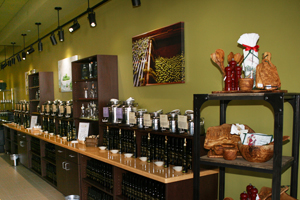 Heat Empeltre Extra Virgin Olive Oil in a skillet over medium high heat. Lay each breast flat and lay a piece of cheese of cheese on each breast. Roll as tight as possible being careful not to unroll. Dredge each rolled breast in flour. Add the breasts to the hot oil and brown on all sides until golden brown. Turn carefully so as not to unroll. (some cheese may ooze out, just don't let it burn in the oil.)
Once the breasts have cooked through and are golden brown, remove to a plate and keep warm. Drain off all but a couple of tablespoons of olive oil and place pan back on heat and sauté shallots for 3-4 minutes, scraping the bottom of the pan. Add garlic and sauté for another minute, then add wine and continue scraping the bottom of the pan.
Add the chicken stock, capers and simmer until the sauce is reduced by half. Taste and adjust the seasoning with salt and fresh ground pepper. Add the breasts back to the pan, spooning the sauce over the top to warm for another minute,
Serve chicken over pasta, sprinkled with flat leaf parsley.
Serves 4
Watch For Next Month's Recipe!