Every month Bella Vita Gourmet Olive Oil will feature a recipe using our products. We will give you ideas of great tasting foods using Olive Oil and Balsamic Vinegars.
Bella Vita Gourmet Olive Oils & Balsamics will concentrate on healthy great tasting foods that give you healthy ways to eat without sacrificing flavor.
Spicy Calabrian Pesto Primavera Salad
Ingredients
12oz pasta cooked (macaroni, spiral, or penne)
4 Cups Steamed Vegetables
1 Cup Diced Mozzarella
¼ Cup Grated Parmesan
¼ Cup Spicy Calabrian Pesto Olive Oil
¼ Cup Toasted Slivered Almonds
Salt to taste
Directions
Toss all ingredients until coated with oil. Top with toasted almonds. Serve
Spicy Calabrian Pesto Grilled Cheese
Ingredients
2 Slices of Artisan Bread
2 Slices Cooked Bacon
Spicy Calabrian Pesto Olive Oil
1 Slice Cheddar Cheese
1 Slice Gouda Cheese
Directions
Brush each side of the bread with Spicy Calabrian Pesto Olive Oil. Cook one side of the bread in a skillet until brown. Flip bread put a slice of cheese on each piece of bread. Put bacon on top and cook until the bread is brown. Put the two sides together and flip several times until cheese is melted.
Spicy Calabrian Pesto Sauce
Ingredients
2 Cups Fresh Basil Leaves
½ Cup Pine Nus
½ Teaspoon Salt
¾ Cup Grated Parmesan or Pecorino Romano
½ Cup Spicy Calabrian Pesto Olive Oil
Directions
Combine basil and pine nuts in a food processor. Pulse a few times to coarsely chop. Add Olive oil and pulse a few more times until the consistency is to your taste. Stir in cheese and salt. Serve on crostini, sandwich, dip for vegetables, or topping for pizza.
Elderberry Glazed Chicken with Olives and Capers
Ingredients
4 chicken breasts, boneless
4 cloves garlic, minced
1 heaping TBSP of Italian Herbs
coarse sea salt and freshly ground black pepper to taste
1/4 cup elderberry vinegar
1/4 cup olive oil
1/4 cup pitted olives with juice, chopped
1/4 cup capers with a bit of juice
2 bay leaves
1 cup white wine
Directions
1. Early in the day: In a 9x13 Pyrex baking dish combine chicken breasts, garlic, Italian herbs, pepper and coarse salt to taste, vinegar, olive oil, olives, capers and juice, and bay leaves. Cover and let marinate, refrigerated, at least 4 hours, flipping breasts over in marinade several times.
2. Preheat oven to 350 degrees.
3. Pour wine over chicken breasts and bake for 50 minutes to 1 hour, basting frequently with pan juices, and turning breasts over halfway through cooking. Chicken is done as soon as the breasts feel firm when you press on them with the back of a fork and have a nice, browned appearance
Serve it with mashed potatoes and a glaze made from the pan juices if you are after comfort food, or with roasted veggies.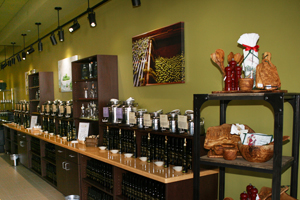 Pasta with Mushroom & Sage Olive Oil
Ingredients
4 tablespoons Wild Mushroom & Sage infused Olive Oil
6 fresh sage leaves, cut in thin strips
2 oz. pancetta thinly sliced (optional)
1 tablespoon fresh lemon juice
1/3 cup grated Pecorino Romano
kosher salt and fresh ground pepper to taste
12 oz. dry pasta of choice, cooked al dente in lightly salted water
Directions
While your pasta cooks add the olive oil to a large saute pan over medium heat. Add sage leave strips and (pancetta if using). Fry for a couple of minutes until the sage and pancetta strips are crispy but not burnt. Add the lemon juice and whisk. Set aside. Drain the pasta but leave a fair amount of cooking water in the pasta. Add the wet pasta to the saute pan and return to heat tossing to coat and thicken the sauce. Test for seasoning, adding fresh ground pepper and additional salt if desired, and serve immediately